One Part History, Two Parts Haunt!™ Visit more than 20 scary sites to hear Philadelphia's haunted facts and folklore. Experience Philadelphia's monuments by moonlight. Travel the cobblestone streets of Old City to hear chilling stories about the Spirits of '76, featuring:
Haunted Facts - Hear stories about the Master of the Macabre, Edgar Allan Poe, who used to reside in Philadelphia and learn about Leo Callahan, the only prisoner to escape from Eastern State Penitentiary and never be captured!
Haunted Folklore - Learn about the legendary ghosts that inhabit Independence Hall, the spirits of Carpenters' Hall from a first person encounter, the dancing statue of Benjamin Franklin at Library Hall and paranormal Pine Street happenings.
Haunted Movie Sets - See famous film locations from big screen thrillers such as The Sixth Sense, Shooter, National Treasure and more!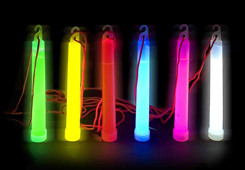 Everyone Gets a
Free Glow Stick!